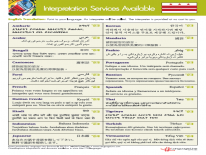 DC Fire and EMS as well as the Office of Unified Communications offers any agency-provided service to non-English and limited English speakers in their native language, at no charge. Citizens only have to ask to use language line services provided through the Office of Human Rights.
Emergency providers are equipped with a booklet that quickly allows a citizen to point to their native language and read additional instructions about how to communicate with the service.
DC Fire and EMS has completed an extensive awareness campaign so that employees are familiar with how to use the language access service for any citizen inquiry.