Thursday, November 10, 2011
Free Workshop Hosted by Mayor's Office on Asian and Pacific Islander Affairs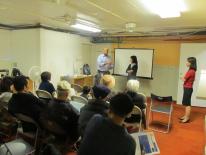 Media Contacts
(Washington, DC) – The Mayor's Office on Asian and Pacific Islander Affairs (OAPIA), in collaboration with the DC Department of Human Services (DHS), organized a workshop regarding TANF changes for local Vietnamese residents on Tuesday, November 8, 2011. Nineteen residents were in attendance at the workshop, held at the Vietnamese American Community Service Center (VACSC).
Mr. David Ross, Chief of the Economic Security Administration (ESA), Department of Human Services, informed residents on new changes to the TANF program, how it affected the recipients, and what residents needed to do in order to continue receiving benefits. Mr. Ross also answered many questions from participants regarding the DC Alliance Program, the Grandparent Caregiver Program, the Emergency Rental Assistance Program, and the Burial Assistance Program. He stressed the new process requirement of conducting recertification in person; this requirement applies to everyone, including those who recertified by mail as recently as one to two months ago.
Additionally, Mr. Ross reminded participants that they should always obtain a receipt when submitting documents to DHS. Adhering to such advice will facilitate the follow up process between participants and DHS. DHS is also ready to serve and assist individuals with limited or no English level proficiency via the language line service, thus everyone is encouraged to contact them for services without hesitation.
"It was great that OAPIA and DHS brought this information to our community," said Hien Vu, President of the VACSC. "We at VACSC often get a lot of inquiries from Vietnamese residents about human services, but there are things we don't always have the answers to. I learned a lot from this session."
The next and final workshop on changes to the TANF program will be held on Tuesday, December 6 from 12 pm to 1 pm at the Asian Service Center, 714 G Place NW, Washington, DC 20001.