Local Asian American and Pacific Islander Residents Reminded of Importance of Voting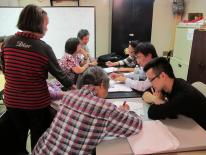 Media Contacts
Phone: (202) 727-5560
(Washington, DC) - The Mayor's Office on Asian and Pacific Islander Affairs (OAPIA) coordinated three voter registration drive events at which staff and volunteers conducted voter outreach in the District. Bilingual staff, interns, and volunteers also canvassed areas that had historically high Asian American and Pacific Islander (AAPI) populations.
On Thursday, October 4, OAPIA visited both the Gibson Plaza Apartments and the Asian Service Center and registered 36 District residents, including 27 Chinese and Korean residents. OAPIA also held a registration drive at Bancroft Elementary School, and partnered with Asian American LEAD and the Vietnamese American Community Service Center to register 25 Vietnamese District residents.
"OAPIA has always believed that getting involved in the political process is an important way that one can be counted and heard. The District's many AAPI residents have a significant impact on elections, specifically local elections. We will continue to register AAPIs to vote throughout the year because we know that educating people in democracy is the fastest way to make our voices heard," said Soohyun "Julie" Koo, Executive Director of OAPIA.
OAPIA will continue to promote voter registration activities throughout the year and work with the Board of Elections to help ensure the AAPI community experience at the polls includes language support. To this effort, OAPIA is helping to translate signage and recruit bilingual poll workers who can assist limited and non-English proficient AAPI residents.
The deadline to register to vote in the District of Columbia is October 9th, 2012.
Related News