Thursday, October 25, 2012
District Residents Given the Opportunity to Learn About Sikh American Heritage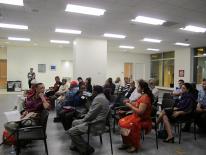 Media Contacts
Phone: (202) 727-5560
Washington, DC) - District residents, merchants, and students gathered on Wednesday, October 24, 2012 to attend an event promoting and encouraging an open dialogue among the District's different communities. OAPIA along with other community groups focused the dialogue on Sikh Americans, a religious group within the broader South Asian American population, after a shooting that occurred at a Sikh temple in Wisconsin several months ago.
"We believe this meeting brought a greater awareness and understanding of the South Asian American community. We are very grateful to have been part of such an important event. It is through the building of partnerships and community engagements that will help us become a stronger city," said Soohyun "Julie" Koo, Director of OAPIA.
Among some of the topics that were addressed were dispelling stereotypes of Sikh Americans and Sikh culture. The dialogue served as a forum for all to share their thoughts and concerns.
"This was a great opportunity for residents to engage in a productive conversation about issues of concern to District residents. Engaging people in these types of discussions will lead to a better understanding of our District's diverse background. As part of Mayor Gray's "One City" initiative, we value diversity and believe it is an integral part of progress in our city," said Director Koo.
More than 25 residents turned out for the event which was held at the Department of Employment Services headquarters in Ward 7. The community dialogue was a partnership with the Mayor's Office of Community Affairs, Mayor's Office of Neighborhood Engagement, Department of Employment Services, Kaur Foundation, South Asian Americans Leading Together, Washington Area Liquor Retailers Association, Anacostia Coordinating Council, Far Southeast Family Strengthening Collaborative, Inc, Congress Heights Main Streets, Many Languages One Voice, KhushDC and Natyabhoomi School of Dance.
Related News