Smart911 is a Free Public Safety Service for Residents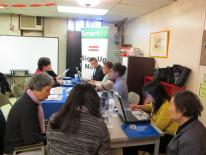 (Washington, DC) - The Mayor's Office on Asian and Pacific Islander Affairs (OAPIA), in partnership with the Office of Unified Communications (OUC), the Family Matters Asian Senior Center (ASC), and the Vietnamese American Community Service Center (VACSC), continued efforts to improve public safety by promoting the Smart911 program to the District's Asian American and Pacific Islander (AAPI) community.
OAPIA and OUC designed and distributed multilingual informational material promoting Smart911 to AAPI residents at community events and meetings and through online outreach efforts. OAPIA and OUC registered 80 District AAPI residents for Smart911 during two registration sessions held at the ASC and VACSC. Arrangements were also made for newly registered AAPI residents to receive in-language confirmation calls of their Smart 911 program registration.
Smart911 is a free service provided by OUC. With this service, residents can create a Safety Profile for their household that includes vital personal and medical information for each household member. In the event of an emergency, 911 emergency call takers and first responders will be able to access Smart911 Safety Profiles immediately to provide faster and more effective assistance. Residents with limited English proficiency may also identify their preferred language in their Safety Profiles, and thus be provided with quicker access to language interpretation during emergency situations.
"I encourage all District residents to take advantage of all available public safety services, especially the limited English proficient AAPI community. During an emergency, the timely distribution of accurate and pertinent information is essential; having a Smart911 Safety Profile can help mitigate issues that may result due to language barriers," said Soohyun "Julie" Koo, Director of OAPIA.
Residents are encouraged to register by creating their Safety Profile with Smart911 at www.smart911.com. OAPIA will continue to educate the community about forthcoming safety initiatives and register AAPI residents for Smart911 at future activities and events throughout the year. For more information about Smart911 or other safety services within the District, please contact Wanda Gattison of OUC at [email protected], Ngoc Trinh of OAPIA at [email protected], or visit www.apia.dc.gov.
Related News: Photos: March 4 & 19, 2013 - Smart911 Registration Sessions -- OAPIA on Facebook