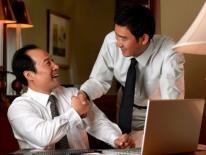 MOAPIA's Community Engagement program covers several areas of the agency's work including: Outreach and Education, Community Grants, Community Activities, Cultural Activities, Capacity Building, and Case Assistance. Some activities include conducting resident and merchant outreach initiatives and organizing workshops to engage, educate, and keep residents and merchants informed about the District's programs and services.
MOAPIA awards grants to community-based organizations to help provide supplemental social services to the community and provides case assistance to ensure that residents and merchants have access to the District's program and services.
MOAPIA's outreach team has the language capacity of three major Asian languages: Chinese, Korean, and Vietnamese.