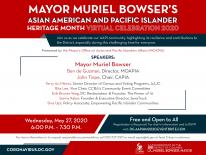 We cordially invite you to celebrate AAPI Heritage Month with Mayor Muriel Bowser!
May is nationally recognized as AAPI Heritage Month, and each year, MOAPIA organizes the Mayor's AAPI Heritage Month Celebration to honor the rich history, culture, and contributions of our AAPI's.
In recognition of and inspired by the stories we hear of residents across the District coming forward to help those in need, we observe AAPI Heritage Month this year with the theme "Building Resilience Together."
Please join us virtually through WebEx on Wednesday, 5/27, at 6:00 PM - 7:30 PM (EST) as we honor the stories of our AAPI community, highlighting its resilience and contributions to the District!
We will have guest speakers from the Mayor's Executive Office, a presentation on the importance and benefits of participating in the 2020 Census, especially for the AAPI community, interviews with local organizations who have stood up to the challenge of helping DC in this time of need, and a Q&A session.
We will be joined by:
Mayor Muriel Bowser

Ben de Guzman, Director, Mayor's Office on Asian and Pacific Islander Affairs

John Tinpe, Chair, Commission on Asian and Pacific Islander Affairs

Terry Ao Minnis, Senior Director of Census and Voting Programs, AAJC

Rita Lee, Vice-Chair, CCBA's Community Event Committee

Erik Brunner-Yang, DC Restaurateur & Founder, The Power of 10

Sonny Kakar, Founder & Executive Director, SevaTruck

RSVP: Please register with a valid email address to participate at DC-AAPIHM2020.EVENTBRITE.COM

#AAPIHM2020, #BuildingResilienceTogether

DATE AND TIME
Wednesday, May 27, 2020, 6:00 PM – 7:30 PM

LOCATION
Virtually on WebEx

For more information, please call (202) 727-3120.