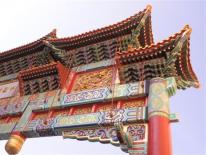 Background
In 2008, the DC Office of Planning (OP), in partnership with the Mayor's DC Office of Asian and Pacific Islander Affairs (OAPIA), started undertaking a Chinatown Cultural Development Strategy (CCDS) for DC's Chinatown. The CCDS provides strategies to help reposition Chinatown as the region's top destination for Chinese/Asian cultural businesses, programs, services, events and festivals.
The CCDS was adopted as the Chinatown Small Area Plan by the DC Council in September of 2009. OAPIA and OP are currently working with various government agencies, community members and organizations to help implement the action items listed in the Small Area Plan.
For inquiries about Chinatown Small Area Plan, please contact Dory Peters at (202) 727-3120 or email [email protected]
DC策劃辦公室(OP)與DC市長辦公室之亞太裔事務處(OAPIA )於2008年開始合作,致力於DC中國城的文化發展策略 (CCDS).CCDS 將提供策略,以幫助中國城重新定位為區域性華人/亞裔文化商務、計劃、服務、活動、和節慶方面的重鎮。
CCDS於2009年九月由DC議會採納為中國城小區域計劃. OAPIA 和OP正與各個政府部門、社區成員、和組織合作,以幫助實施中國城小區域計畫中所列的行動項目.
如想知道更多有关中國城小區域計劃,请联系刘多仪 (202)727-3120 或 [email protected] (普通话或广东话).