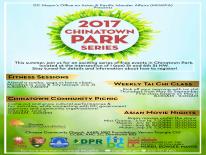 The Mayor's Office on Asian and Pacific Islander Affairs (MOAPIA), is re-launching Chinatown Park Start FRESH! Series to promote Mayor Bowser's FitDC health and wellness initiative, as well as to encourage Chinatown residents to pursue a healthier lifestyle. The series offers free fitness classes such as Tai Chi and Yoga and features community events like a community picnic and outdoor film screenings.
Upcoming events include:
Weekly Tai Chi (every Thursday at 8 AM, May – September)
Weekly Fitness Sessions (every Monday at 6:30 PM, June – July)
Chinatown Community Picnic (June 3, 11 AM – 2 PM)
Asian Movie Night Series (Miss Granny: June 14, 7:30 PM; MOANA: July 12, 8PM; Lion: August 16, 8PM, Mulan: September 29, 7:30 PM).
All events are free and open to the public. Chinatown Park is located on the corner of Massachusetts Ave and I St NW between 5th and 6th St NW.
For more information, please contact Phuong Nguyen at [email protected] or contact 202-727-5560.