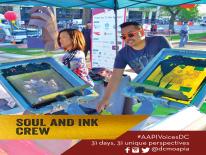 Soul and Ink Crew
1. How did your interest in live screen printing evolve into a family business?
For our wedding 4 years ago, we hand crafted everything. Once it was all said and done we realized that after being designers for over 20 years each, we really missed making things! Not just digital graphics, but tangible items we could gift people. Shortly after we purchased a cheap Speedball screen printing kit from the local art store, and our sister-in-law came over with an idea for a surprise t-shirt design for my brother, hours later we found ourselves still printing late into the night into what became our first live screen printing party! That's when we realized we were onto something that we were both passionate about sharing with the world.
2. You are curating the SAMASAMA Art Show featuring local AAPI artists in honor of AAPI Heritage Month. What made you want to take on this big endeavor?
I have no idea, I am crazy, and like to create more work for myself than I can handle. LOL Just kidding, but not really. I'm a Capricorn, we have big ideas and and the perseverance to see them through into fruition.
We were at a conference with a fellow friend, AAPI artist and entrepreneur - DJ and Photographer Les Talusan, that attempted to address how artists and real estate developers should work in harmony towards common goals were the community isn't effected negatively. Disenfranchised by these conversations and having seen the reality many artist friends and marginalized communities struggle with I was inspired to create a show that lifted the voices of many of the Asian artists that I knew as well as those I wanted to meet. I also wanted to created a safe space for intersectional community building.
I told Les about it, and she was down! She had already been looking for a partner to have an art/music/community-related event for AAPHM since she felt it was needed because of the current polarized political climate, so it was meant to be. We worked really hard to make it happen in one month, so that we could have it in time for Asian American Pacific Islander Heritage Month. We also decided to donate a portion of the proceeds to AALEAD.org for the tireless work they do with the youth in our communities. Through them is where I heard first hand stories of children's experiences with gentrification and displacement in while living in Chinatown.
I am proud to share that last year's art show was a 4 hour pop up, and this year has expanded to a 5 days of family friendly community oriented programming, including a zine & collage making and APA pop-up library, a creatives in business panel, and a family day. A portion of this year's proceeds will now be donated to two DC based organizations aalead.org and jowga.org. RSVP at bit.ly/2018samasama!
3. As AAPI entrepreneurs, what has been your biggest challenge?
Our biggest challenge has been building a strong team. What we do is a very specialized skillset, so finding the type of staff who can do all that we do - from concept to design to a live screen printing activation to speaking with over a thousand people in a span of two days definitely requires energy, passion and talent for design, community and print!
4. What has been your proudest moment? We've had many, one of our favorites from last year was being featured as artists for the IlluminAsia Festival, the grand reopening of the FREER | SACKLER Gallery, which included several artists as well as a performance by one of our favorite DJ's, DJ QBERT! Read more about it here on our Top 10 Moments of 2017 blog post.
5. What do you want people to know about the art scene in DC? It is alive and well, a vibrant and strong cypher of positive talented people! I do wish we could support each other more. I encourage people to get to know more local artists and do what you can to support them!
6. What is one thing that people may not know about you both that you would like to share through this #AAPIVoicesDC campaign? We've both tried to escape design as a career before, because creating art on demand is no easy feat. Frankie is a licensed Animal Behavior Trainer, and Sherry is a Certified Yoga teacher, but alas design and art is in our blood and it's a lifestyle. So we created Soul & Ink as a way to work directly with organizations we believe in.
Frankie and Sherry Meneses are a husband and wife team and owners of Soul & Ink, a mobile screen printing company based out of Washington DC.