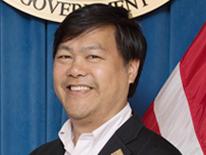 Ben de Guzman is the Director of the Mayor's Office on Asian and Pacific Islander Affairs (MOAPIA). He has been a leading voice at the local and national level on issues of racial equity, immigrants' rights, veterans affairs, and LGBT justice for twenty years. He comes to MOAPIA from the Mayor's Office of LGBTQ Affairs, where he served as the Community Outreach Specialist. During his tenure there, he helped execute two major first time events for the Office- the "District of Pride" LGBTQ cultural performance event and the 32nd Annual 17th Street High Heel Race, presented by the Mayor's Office as lead organizer. He also served as both the Public Information Officer and the Americans with Disabilities Act Compliance Officer for the agency.
As an advocate for equity and recognition for Filipino veterans of World War II, he played a key role in two of the most significant legislative victories on behalf of these soldiers. He led communications, outreach, and political strategies for the Filipino Veterans Recognition and Education Project that led to the passage of the Filipino Veterans of WWII Congressional Gold Medal Act in 2016. He also served as the National Coordinator for the National Alliance for Filipino Veterans Equity, where he organized a national legislative campaign that created the Filipino Veterans Equity Compensation Fund in 2009.
For almost ten years, he was principal staff at the National Queer Asian Pacific Islander Alliance (NQAPIA), where he managed the policy and programmatic work for NQAPIA and its federation of 40 Asian American, South Asian, Southeast Asian, and Pacific Islander LGBT groups around the country. As the public face of the organization, he spearheaded efforts to promote both national LGBT campaigns around comprehensive immigration reform and a national LGBT Pride Month campaign from Asian American/ Pacific Islander advocacy organizations.
His work in Asian American and Pacific Islander communities has spanned across the age spectrum. As a trainer for OCA: Asian Pacific American Advocates APIAU Leadership 101 program, he has trained over 1,000 youth and college students. As the National Managing Coordinator for the Diverse Elders Coalition, he led a national program to coordinate cross-sectoral work to bring together elders of color, LGBT elders, and Native American/ Indian American elders to engage the 2015 White House Conference on Aging.
He has authored articles and op-eds that have appeared in mainstream and special interest media, anthologies, and academic publications,including the Encyclopedia of Asian American Issues Today. In 2015, he received a Community Service Award from Washington DC Mayor Muriel Bowser, and is pleased to come to MOAPIA and help recognize exciting new leaders moving forward.
Ben is the son of Filipino immigrants and was born and raised in New Jersey. He first moved to the District in 1997 and is a proud resident of Ward 1.