MOAPIA Internships and Volunteering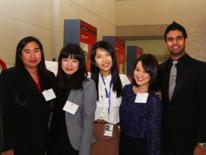 MOAPIA Internship Opportunities
The Mayor's Office on Asian and Pacific Islander Affairs (MOAPIA) is seeking motivated individuals interested in public service and the Asian American and Pacific Islander (AAPI) community. MOAPIA is an independent agency within the District government that acts as a liaison between the District government and the AAPI community. It organizes and facilitates public and private programs on public safety, human rights, economic development, housing, employment, social services, public health, transportation, education, and multicultural development to ensure accessibility for the District's AAPI community. It often requires the services of interpreters to facilitate the translation of various documents and ensure that they are being utilized by the AAPI community.
Language Access Intern
The intern will focus on language access related work in the office and issues affecting the Asian and Pacific Islander communities. MOAPIA is tasked with providing technical assistance to over 25 District Agencies on language access. The intern will assist the Language Access Coordinator in implementing the Act. Some of the duties of the intern will include conducting an assessment of agency frontline centers, research best practices by municipal governments in providing linguistically and culturally appropriate services to the Asian and Pacific Islander community and further develop a network of governments, and creating reference manuals for District agencies on the AAPI community.
Outreach Intern
The intern will work closely with the Outreach Team in serving the AAPI population in the District. Duties include:
assisting outreach coordinators with different outreach projects and activities
visiting community based organizations, residents, and business owners
providing case assistance to District residents & merchants
occasional simple translations
handling administrative tasks
Being bilingual in English and either Korean, Vietnamese, Mandarin, or Cantonese is required.
Qualifications
Applicants should be undergraduate or graduate students who possess strong written and oral communication skills as well as organizational abilities. They must be flexible and willing to take initiative. Strong computer and research skills are also desired. The intern should be able to work a minimum of 10 weeks for at least 15 hours per week. Most importantly, applicants must be able to work with diverse populations.
Applications will be reviewed on a rolling basis. To apply, please email a resume, cover letter detailing your suitability for the position, and contact information to:
Christina Truong, Community Outreach Specialist/Public Information Officer
Mayor's Office on Asian and Pacific Islander Affairs
441 4th Street, NW, 721 North
Washington, DC 20001
Tel: (202) 727-5560
Fax: (202) 727-9655
MOAPIA Volunteering Opportunities
The Office on Asian and Pacific Islander Affairs (MOAPIA) needs volunteers, particularly bilingual or multi-lingual individuals. Throughout the year, it continuously organizes events focused on the District's API community. Some of these events include the DiverseCity job fair, AAPI May Heritage Month Celebration, and AAPI Town Hall Meeting. Volunteers are crucial part to the success of these events.
Ngoc Trinh, Outreach Coordinator
Mayor's Office on Asian and Pacific Islander Affairs
441 4th Street, NW, 721 North
Washington, DC 20001
Tel: (202) 727-9883
Fax: (202) 727-9655